With more people

spending a lot of time on social media, there is a shift in the way brands are communicating with their audience. They have resorted to digital marketing because it is not only cost-effective but also helps them reach a larger audience and it is the best way of communicating to the target audience.
According to statistics from

optimind

, Blogs are 63% more likely to influence purchases than magazines, and videos increase conversions by 86%, Video keeps the target audience on site up to 2 minutes longer.
Consumers who receive email marketing order 28% more often and they make orders 44% larger. It's up to the brand to choose what kind of digital marketing works better for them.
However,

digital marketing

alternates a lot and there is always a new way for the audience to consume content. Therefore brands should actually keep up with the changes in digital marketing if they want to continue communicating with their customers.
Here are some of the key trends shaping digital marketing today:
#1: Artificial Intelligence(AI)

; has changed the way brands interact with their audience by automating tasks that require human labor and intelligence.  Tasks like translation and decision making that initially required human mental intelligence, are now automated.
This is not only cost-effective, but it also increases efficiency and optimizes the customer experience. AI boosts brand communication through the personalization of content through algorithms. It tracks user behavior and customizes their

online experience.
#2: Video Marketing.

 This is one of the most common ways brands are using to create brand awareness.  Video applications like TikTok, YouTube, and Facebook live streams attract a large audience. On Facebook, live streams

increased by 50 %, and Instagram, by 70%.
Tik Tok sky skyrocketed in 2020 and is growing exponentially.  On sites like Instagram, consumers can actually shop while watching, without ever leaving the app!
#3: Brand advocates and Influencers.

Brands use experiential marketing to gain more brand loyalty through those who have used their products or services.  
#4:
Visual Search.
Brands have adopted this kind of marketing because it makes it easy for a consumer to search for a product.  All they have to do is upload a picture of that product to conduct a search and get a visual display of the search results.
Examples of these are Pinterest lens, Google lens, and CamFind and Bing Visual Search. Brands can now target over 5000 categories through visual search advertising on the Pinterest lens. Image-based ads have an

8.5% conversion rate.

 Google lens has been used over

1 billion times.
#5:
Chatbots.
  Although they are not new, chatbots are still playing an important role in digital marketing. This is because they chat with your customers in real-time, regardless of the time of the day.
They use instant messaging to reply to customers and answer instantly to simple inquiries. Chatbots simplify the interaction between people and services thereby improving customer experience. 
#6: Voice search.

Voice search

plays an important role in providing information that people are searching for through audio content. There are a number of smart voice assistants like Siri, Alexa, and these help answer and search for all information that their users need.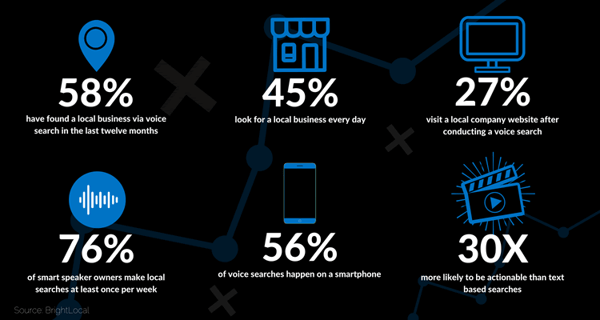 Brands like

Nestle

incorporated voice instructions to guide users as they cook. Fast-food chain

Domino's

allows customers to make their orders via their voice app. 
#7: User-Generated Content. This is any form of content such as videos, audio, images, and texts that are posted by users, rather than brands. Brands are now asking customers to share pictures or videos of themselves using their products and services because customers trust each other more than they trust the brand itself.
For example, Shangri-La hotels asked their clients to share beautiful pictures and videos of themselves taken from any of their hotels. This was done through the #ShangriLamoments.
#8: Social media messaging apps. These include apps like Facebook, Twitter, WhatsApp, Instagram to mention but a few. These apps are more than popular since people use them for messaging and sharing information. Brands are using them to market their products and services since it's where most of their consumers

hang out

.
Bottom-line
However, before using these trends, you have to know who you are trying to reach, what you want to tell your target audience, and which social media platform has more of your target audience.
With this in mind, make a digital marketing plan that involves the kind of content you are going to share. It will help you meet your target audience, on a specific platform at the best time.
For anyone in digital marketing, change is a must, therefore you must be on the lookout for any changes, and be able to embrace them.